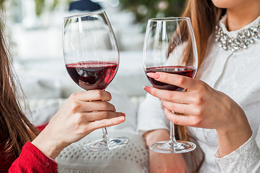 Ladies Who Lunch - Forward Boutique
Northstar Winery
11:30 a.m. to 1 p.m.

Enjoy a day celebrating Northstar wine, local cuisine and women.

Join us at Northstar as we celebrate International Women's History Month with our Ladies Who Lunch series. Each luncheon we will be honoring local women in business with a delicious meal from Chef Penny Addison and a fashion show featuring a local, female-owned boutique. Each meal will be paired with four Northstar wines.

Price per person: $50 │$40 Wine Club

Forward Boutique
Forward Boutique is your place if you are looking for timeless fashion-meets-fun, edgy, and custom pieces to make your style memorable and unique. Professional stylists will save you time by putting together great looks for you. No look is complete without the accessories: all jewelry, handbags and belts are hand-made by owner Dana Rubenser Parson.

Menu
Course One: Seasonal Amuse-Bouche
Course Two: Sweet Italian Sausage, Fire Roasted Peppers, Tomatoes, Fresh Basil. Served over gnocchi
Course Three: Espresso Chocolate Croissant Bread Pudding

RESERVATION
To make your reservation please call the tasting room at 509-525-6100.