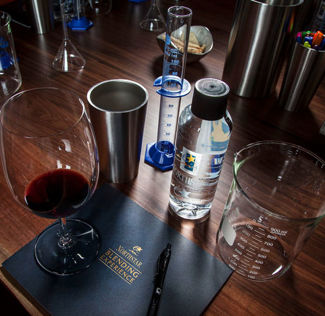 Northstar Blending Experience
The Northstar Blending Experience is a unique, hands-on opportunity for our guests to immerse themselves in the art and craft of blending Northstar wines.
Northstar Blending Experience
A unique, hands-on opportunity to craft your own blend.
WATCH NOW

After a brief presentation on Washington's wine-growing regions, guests are guided through a tasting of four distinct Merlots from four different regions of Washington, along with a Cabernet Sauvignon and a Petit Verdot, all straight from the barrel. Then, using beakers, graduated cylinders and other winemaking equipment, guests compose their own one-of-a-kind bottle of Northstar, complete with a custom label, from the same blending components that Merf uses to craft our acclaimed Merlot-based blends.
Unlike any other experience in Washington wine country, the Northstar Blending Experience gives guests a window into the art of blending world-class wines.
This 90-minute experience is offered by appointment only and available for up to 14 guests.
PRICE: $100 per person / $65 for club members
HOURS: 1:30 pm, Monday - Sunday
WHAT'S INCLUDED
An overview of Washington's growing regions
A guided barrel tasting
Instructions on blending techniques and strategies
A bottle of your custom blend
A tasting of Northstar's current releases