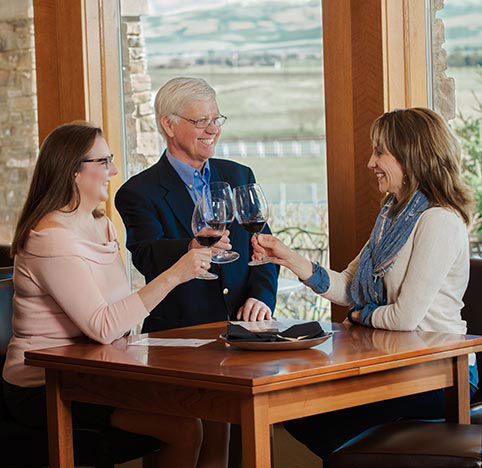 Tasting Room
Northstar Winery looks forward to welcoming you to our Walla Walla Tasting Room. We are open for indoor & outdoor tastings, unique experiences, carryout wine sales, and curbside pickup. Reservations are required. We will accommodate walk-in visitors when possible.
Tasting Room Hours
Open daily 10:00am to 5:30pm

Reservations available from

10:00am to 4:30pm
Northstar Food Pairing
$95 PER PERSON | $75 FOR CLUB MEMBERS
Experience the world of wine and food pairing at Northstar. We have carefully selected wines from our cellar while creating a fun food pairing that will allow guests to experience and learn how pairing wine and food can change the characteristics of the wine and enhance their overall experience.
Available Thursday through Sunday at 11:00am
Winemaker Select Flight
$25 PER PERSON | TASTING FLIGHTS ARE INCLUDED WITH CLUB MEMBERSHIP
Sample through a selection of 4 Limited Release, Reserve wines from the Columbia and Walla Walla Valleys. Each tasting flight features the newest vintages of 4 wines from our portfolio. Reservations required.
Available Daily: 10:00am – 4:30pm
Library Tasting
$50 PER PERSON | $40 FOR CLUB MEMBERS
Don't miss your chance to taste through history. Experience an exclusive selection of four wines from our Vintage Cellar. These wines are the very last of their vintages with only a small amount of inventory left. Reservations required.
Available Daily: 10:00am, 12:00pm, 2:00pm, 4:00pm
Northstar Blending Experience
SPECIAL ANNIVERSARY OFFER: Save 20% on the Northstar Blending Experience through 12/31/23
Enjoy a select tasting of limited release wines before embarking on the creation of your own unique red wine blend. Unlike any other in the Walla Walla Valley, this hands-on 90-minute experience immerses you in both the creativity and science of composing a blend. When finished, you will have a custom blended bottle of wine to take home. Reservations required.
Available Friday through Sunday at 2:00pm
Northstar Cabana Experience
BY ADVANCE APPOINTMENT ONLY, LIMITED TO 6 GUESTS, $125/$100 FOR WINE CLUB MEMBERS
What could be better than enjoying your favorite Northstar wine in your own cabana overlooking the vineyard and Walla Walla's Blue Mountains? This new experience comes with a bottle of Northstar wine (from a pre-determined list), a charcuterie board, warm blankets and lawn games by request for your enjoyment.
Available Thursday through Sunday: 10:30am, 11:00am, 2:00pm and 2:30pm
Seasonal Menu
Enjoy our latest offerings along with your tasting experience or join us for a glass of wine and a bite to eat.
Curbside Pickup Available
Daily from 10:30am – 5:00pm by appointment. Please call our guest services team at 509-525-6100 to place your order and schedule your pickup.