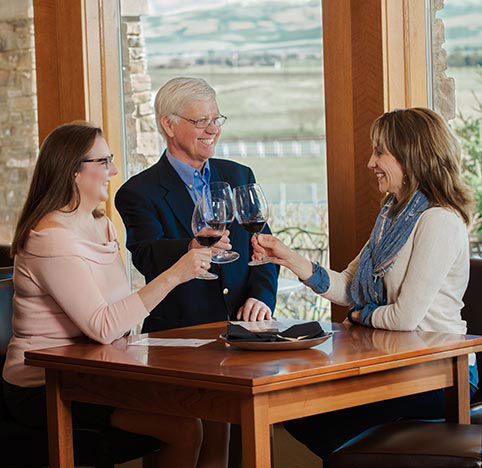 Tasting Room
The Northstar Walla Walla Tasting room is now open for indoor and outdoor wine tastings by advanced reservation Thursday through Sunday. We will be offering our Winemaker Select Flight, a seasonal food menu and other unique experiences. We will be open for curbside pickup and carryout wine sales Tuesday through Sunday from 10:30 am to 4:00 pm.
To allow us to maintain social distancing, please do not bring more people than indicated on your reservation. Washington State Regulations now require parties be limited to groups of 10 people. For outdoor tastings we provide patio seating accompanied with heating units.
For more details or to book your reservation, please see the information listed below.

Celebrate Your COVID-19 Vaccine
We are ready to raise a glass to happier days ahead. Visit our tasting room on Thursdays and Sundays throughout the month of June and present your completed COVID-19 vaccination card to enjoy a glass of wine, on us.
Winemaker Select Flight Options
$20 PER PERSON | TASTING FLIGHTS ARE INCLUDED WITH CLUB MEMBERSHIP
Sample through a selection of 4 Limited Release, Reserve wines from the Columbia and Walla Walla Valleys. Each tasting flight features the newest vintages of 4 wines from our portfolio.
Reservations are required.
Reservation times available: Thursday through Sunday, 10:30 a.m. to 3 p.m.
Mimosas & Brunch
PRICE PER TWO GUESTS: $65 | $50 FOR CLUB MEMBERS
Begin your day with Mimosas & Brunch at Northstar. Create your own mimosas with our Northstar sparkling wines and an assortment of fresh juices while you enjoy a delicious brunch by Chef Penny Addison. The menu features smoked wild caught salmon, asparagus tips, boiled eggs, and lemon-zested blueberry scones with fresh lemon curd. Finish with strawberries and dark chocolates for dessert. Reservations are required. Reservations must be received no later than Wednesday for the upcoming weekend.
Reservation times available: Saturday & Sunday, 10:30am - 1:00pm.
Sparkling Food Pairing Experience
$30 PER PERSON | $20 FOR CLUB MEMBERS AND THEIR GUESTS
Enjoy tasting our two Columbia Valley sparkling wines and a menu of small bites specifically selected to bring out the unique properties and flavors of these limited production selections.
Reservations are required.
Reservation times available: Thursday through Sunday, 10:30 a.m. to 3 p.m.
Seasonal Menu at Northstar
Chef Penny has refreshed our menu for Spring! Enjoy our latest offerings along with your tasting experience or join us for a glass of wine and a bite to eat. For more information or reservations please call our guest services team at 509.525.6100.
Northstar Blending Experience
Enjoy a select tasting of limited release wines before embarking on the creation of your own unique red wine blend. Unlike any other in the Walla Walla Valley, this hands-on 90-minute experience immerses you in both the creativity and science of composing a blend. When finished, you will have a custom blended bottle of wine to take home.
Reservation times available: Friday through Sunday, 1:30 p.m.
Curbside Pickup
The tasting room will have curbside pickup available daily from 10:30 am to 4:00 pm by appointment. Please call our guest services team at 509-525-6100 to place your order and schedule your pickup.