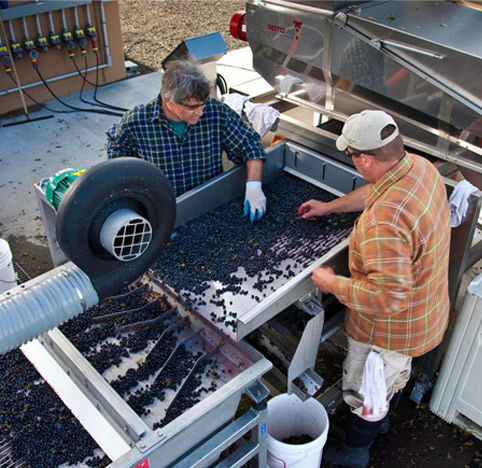 Chapter 9
MARCH 12, 2012
Stick a cork in it, the inaugural vintage of the Big Dipper is in bottles.
On a warm, slightly hazy morning in early September 2011, the special 2009 "best-of-the-best" Merlot known as the Big Dipper made a short journey from oak barrels to tanks, then through hoses into a mobile bottling unit where it filled label-free "shiners." That's because its official name was still up in the air.
This wasn't a typical bottling run for David "Merf" Merfeld and his crew. It was finished in about an hour, a fraction of the time it usually takes to bottle the winery's Columbia Valley and Walla Walla Valley Merlots. Fewer than 200 cases were bottled of this limited-production Merlot.

Since these grape-to-the-glass Chronicles began nearly three years ago, we've visited exceptional vineyards from early fruit set to harvest, learning along the way what makes Washington such a prime spot for Merlot. We've talked with Merf about his philosophy for blending and barrel aging. We've learned the virtues of using a basket press and employing barrel fermentation. When the wine goes into the bottle, it might seem like all the action has come to a screeching halt. But there's still a lot going on.
"First of all, anytime you bottle, there's a little shock to it," Merf said. "It takes some time for the wine to bounce back."
When he tasted it in January, he was very pleased: "It made me smile. It's progressing nicely. It's exactly what I had in mind when we started this project. It's aging great and will only get better. Already, the aromatics are huge. It's a good thing to start out with a lot so you end up with plenty."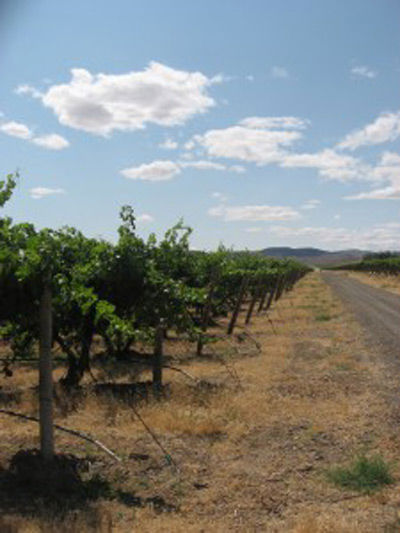 Where it all began, Summer 2009
While aging in the bottle, naturally occurring chemical compounds in the wine combine to create complexity. For instance, potassium binds with tartaric acids, causing them to "drop out." That's the sediment sometimes found at the bottom of a bottle. This process helps soften the tannins over time and protects the wine in bottle for additional years or even decades.
In creating the wine, Merf and his viticultural team focused on fruit with higher levels of acid, which will help the wine maintain its vibrant hue even after 20 to 30 years in a cellar.
"The acidity level is at 3.55, which is in the optimum range for color stability," Merf said.
That's not the kind of acid blast you'd experience in a shot of lemon juice, the affable winemaker pointed out. "It's what makes the wine bright, what makes it pop. But at the same time, it has the depth and richness people love in their red wines."
As a testament to this wine's aging potential, Merf selected a special cork that's slightly longer than the standard stopper: "It helps maintain the moisture content, so there's no chance it will wear out after being in there for 20, even 30 years."
This approach of creating a wine designed for time in the cellar is fairly groundbreaking in the New World, where most wine is consumed within 48 hours of purchase. But the early buzz already has Northstar fans clamoring for more of this limited release wine even before it has made its official debut.
When it is released, the Big Dipper will be known as Northstar Premier because, well, that famous constellation's name was always meant to be a working title. And, after all, Premier does mean first of its kind. It seems fitting that Northstar's 10th anniversary in the winery on JB George Road just south of Walla Walla will coincide with the launch of its first release of Premier.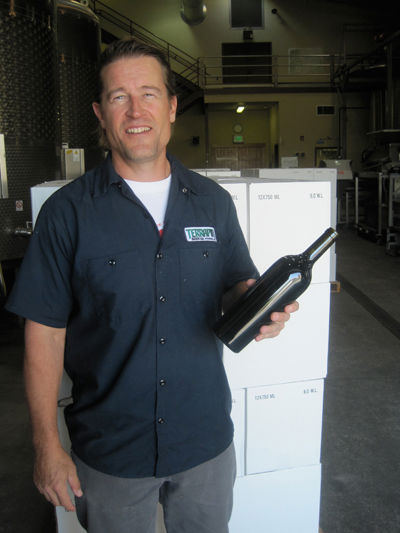 Merf with one of the first bottles of Northstar Premier to come off the line
As the 2009 Premier ages in a temperature- and humidity-controlled warehouse, the bottles stored upside down to keep the corks moist, Merf is preparing to blend the next vintage of this special wine.
"We are working with three lots, blind tasting them to determine how they taste together, while also testing in the lab for phenolics and color," he said. "So far, we love the wines. They're similar to 2009."
And so the story continues.