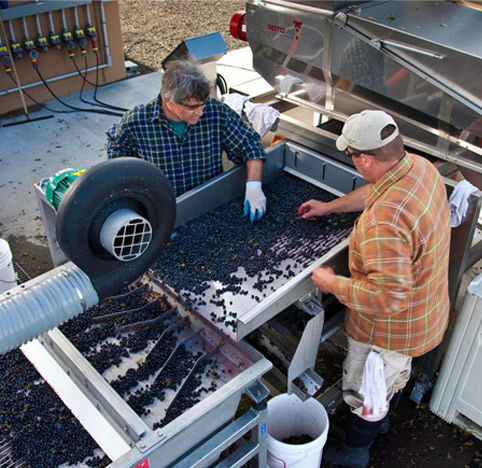 Chapter 10
SEPTEMBER 20, 2012
Celebrations – even if it's just marking the end of a hectic week – call for a trip to the wine cellar. There's nothing quite as satisfying as pulling the cork on a bottle that's been aging for a few years, and finding the wine's complexity and character has concentrated over time. While most bottles these days are consumed shortly after purchase, some wine is made to be enjoyed after spending some time in the cellar.
That's long been the lofty goal of Northstar winemaker David "Merf" Merfeld when he started making the soon-to-be-released Premier in 2009. This "best of the best" Merlot, carefully sourced from prime vineyard sites, promises to demonstrate the varietal's ability to age gracefully. Whimsically nicknamed The Big Dipper Project, Premier's very limited inaugural vintage represents years of intense, hands-on winemaking starting with the selection of the grapes, followed by careful sorting after harvest. The fruit was gently processed in a small basket press and various lots were fermented in special oak barrels and a custom-designed, open concrete fermenter that goes by the name, C-4.
Along the way, the wine has been meticulously tracked, carefully blended and barrel aged for 24 months before being bottled in the fall of 2011. After it's released, the biggest challenge will likely be holding off on pulling the cork. (Which is longer than the traditional cork, specially selected by Merf to ensure a long life in the cellar.)
"It tastes amazing now, but it's going to be even better in 10, even 20 years," said Merf, who plans to tuck away a few bottles in his personal cellar.
Washington Wine Report's Sean Sullivan agreed, saying: "It's a bit more structured, especially in terms of the acid. Some of the grapes were picked a little bit earlier to lock in that natural acidity and that's going to go a long way in extending its life," he said.
Sullivan was among a group of writers who got the first official taste of Premier at the first annual Northstar Merlot Camp in the summer of 2011, an intensive three days of exploration about what makes Washington State so well suited for growing grapes in general, and Merlot in particular.
"We've got those long days and cool nights during the growing season that helps lock in those bright acids," Merf said.
One of the tastiest exercises at Merlot Camp last year and again this summer involved tasting an extensive vertical of Northstar Merlot from Merf's private cellar with selections dating back to 1998, which The Wine Advocate scored 92 points and helped solidify Northstar's "house style."
Campers got a chance to taste wines pulled from Merf's cozy basement cellar, where bottles are organized by region. The well-traveled Merfeld is a big fan of German wines, and, of course, there are bottles of Bordeaux, Burgundy and Champagne. But the biggest chunk of space is devoted to Washington State.
"It's a lot of fun to have people over and pull out something old," he said. "Wine is such a social beverage, it's meant to be shared."
Yes, serious collectors spend big bucks to outfit their expansive cellars with temperature and humidity controls to create ideal conditions for aging wine. Yet, you don't really need a "cellar." There are plenty of space-strapped wine fans tucking away their age-worthy bottles in a spare closet or a spot in the pantry.
"The key is to find a place that has a consistent temperature," Merf said. "I'm not a stickler, but you should be fine if you can store it at between 58 and 64 degrees."
Premier will be launched at a special event for Northstar Club members commemorating the winery's 10th anniversary in its beautiful location in late October.
Sullivan is convinced that it will live up to the considerable buzz: "It's pretty exciting. Nobody has better access to great Merlot than Northstar and for Premier, they've certainly cherry picked best blocks possible," he said. "The wine is unlike anything we've seen. It's great to see Northstar pushing the boundaries. It sure would be fun to try it in a lineup of Right Bank Bordeaux."
Sounds like the perfect formula for a cellar celebration, doesn't it?