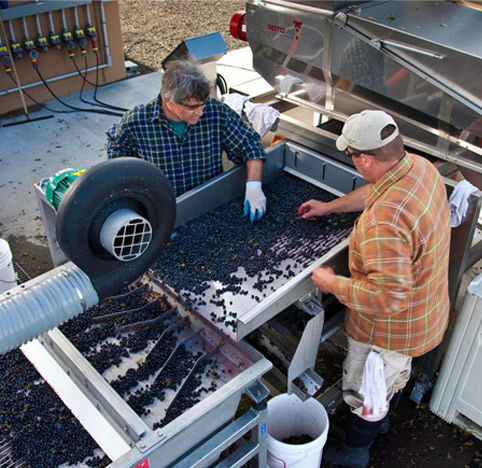 Chapter 8
SEPTEMBER 16, 2011
When it comes to understanding terroir, nothing beats a field trip to one of Washington's famous vineyards.
Standing under the blazing August sun in a block of Merlot at Klipsun Vineyard in the Red Mountain AVA, a group of wine writers from across the country listened intently to Russell Smithyman, Director of Viticulture for Ste. Michelle Wine Estates, talk about the unique makeup of the soil, a historic remnant of the cataclysmic flooding that took place more than 10,000 years ago. Some scribes took a break from jotting notes to bend down and feel the earth beneath their feet in this very special spot.
After some casual Q and A with the gently swaying leafy canopy as a colorful backdrop, the group headed to a nearby gazebo for a picnic lunch and a tasting of barrel samples of wine from this vineyard. It served as a delicious demonstration of Klipsun's particular terroir.
Dr. Russell Smithyman and Merlot Campers at Klipsun Vineyard
It was Day Two of Northstar Merlot Camp, an intensive exploration of the grape on which Northstar has focused since its first release in 1994. During this three-day event, wine writers soaked up engaging presentations by renowned geologist Kevin Pogue and they heard about the artistic and high-tech approach on the production side from Northstar winemaker David "Merf" Merfeld and staff enologist Noah Reed. There was an enlightening comparative tasting of Merlot from around the world and a blending exercise, where these seasoned palates were able to taste components — 2010 vintage wines from various vineyards — and do a bit of DIY blend creation.
Merlot Camp came to a dramatic conclusion with a barrel tasting of The Big Dipper, the project launched in 2009 to create an age-worthy wine from the best grapes from the best vineyards. It was the wine's unofficial sneak peek debut and the feedback was resoundingly positive.
"The Big Dipper is easily one of the most promising, exciting new wines I've tasted recently," said Brian Freedman, a Philadelphia-based writer who is a regular contributor to John Mariani's Virtual Gourmet and to FoodRepublic.com, among other publications and websites. "It demonstrates exuberance and balance, is firmly rooted in its terroir of origin, and clearly embodies the vision and talent of both Merf and the vineyard magicians he works with. I can't wait to taste it again once it's released."
Merf offers a first taste of the Big Dipper from barrel to Merlot Camper Brian Freedman
Merf said he was a bit anxious about sharing this first taste of a wine that won't even be released for another year and then will reach its peak after time in the cellar. "It was kind of like being an expectant father in the waiting room," he said.
Like a proud Papa, he was pleased when the raves began pouring in: "I really love this wine, so it was nice to get positive feedback."
The mission to make a Merlot that will get better as it gets older is really a testimonial to the state of the grape in this growing region.
As Whitman professor of geology and viticulture consultant Pogue explained, there's really no place like it anywhere on the planet.
Those prehistoric Missoula Floods dumped rich soils throughout Eastern Washington, creating a wide range of terroir. The soil composition can vary even within one vineyard. Having a variety of terroirs to choose from makes for a Merlot with depth and complexity.
"Winemakers can maybe go to Red Mountain for bigger tannins and backbone and structure when they're looking for something big and bold. In Walla Walla, with its deep silt loam and windblown loess, wines tend to be softer and more elegant," Pogue said.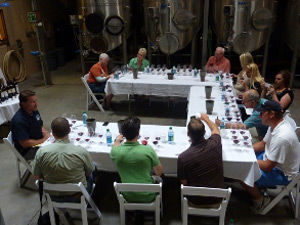 Merf leading campers through a tasting of "Merlots of the World"
The contrast between those two regions was demonstrated during Merlot Camp, when the group traveled from Klipsun south and then east through the landmark Wallula Gap to Anna Marie Vineyard, south of Milton-Freewater, Oregon, in the Walla Walla AVA. While visiting this hilltop site, with sweeping views of the Walla Walla Valley, Merf talked about what he appreciates about the fruit from this vineyard.
"The grapes have great body, they're fleshy and jammy, but you can still taste the terroir, the earthiness," he said.
Not surprisingly, those characteristics were mentioned when the group tasted The Big Dipper from the barrel.
Cole Danehower, publisher of Northwest Palate, eloquently described it: "Though it feels physically soft on the tongue, there is no lack of acidity. The flavors are bright and fresh and have a real sense of clarity around the fruitiness."
The next step for the wine is bottling, scheduled for September. Then, the countdown will begin until the wine makes its official debut in the fall of 2012.