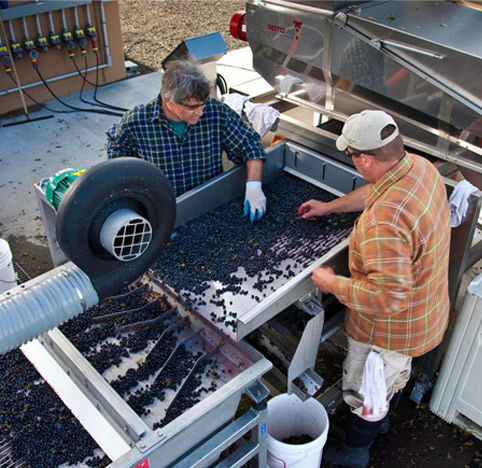 Chapter 4
JUNE 18, 2010
The Big Dipper is right on track, and the 2009 wines that winemaker David "Merf" Merfeld has handpicked for this project are exceeding his great expectations.
Now, all that's required is patience.
"I'm going to be drinking this wine in my retirement," said Merf, half-jokingly. He's chosen lots for the Big Dipper blend specifically for aging potential, to show the world how a Washington Merlot can stand the test of time.
Already, though, the Big Dipper is gaining fans.
During his extensive travels this winter, Merf said he was excited to hear the buzz Big Dipper is generating: "I've had people offer to buy the whole lot."
That's not going to happen. The extremely limited production – around 200 cases — of the inaugural release of The Big Dipper will be spread around. The winery's biggest fans – its wine club members – will get the first shot at what's shaping up to be a real keeper, something for the cellar.
"Besides Merf, of course, our club members are really the best ambassadors for Northstar around the country," said Tasting Room Manager Jan Jones. "Part of the reason we're so excited about the Big Dipper here at the winery is the opportunity to share it first with our friends in the wine club, who are so supportive of our mission to make world-class Merlots from Washington."
Northstar's wine club members are a devoted group, and many venture to Walla Walla several times a year to participate in some of the exclusive events the winery puts on in their honor, including the wildly popular Holiday Barrel tastings and Spring Release parties.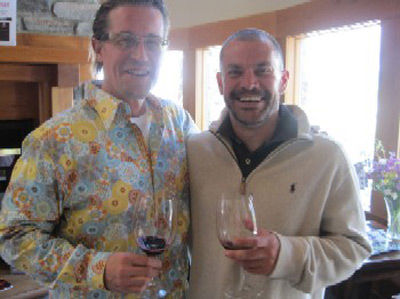 Merf and Northstar Enologist Noah Reed enjoying Spring Release wines
"It's always such a pleasure to visit the winery," said Harry Hosey, who decided several years ago to trade his sports car for a wine cellar.
"I thought, why not turn my fixed assets into liquid assets? So I turned the third bay in my garage into a temperature-controlled cellar," he said.
His interest in Northstar was piqued shortly after the garage transformation: "On my very first trip to Walla Walla, I visited Northstar and fell in love with the wine. It's got a lot of depth and it ages well. It's so nice to pull something out of the cellar from Northstar. It's always good."
The wonderful wine isn't the only perk, though.
"The folks at Northstar couldn't be nicer," Mr. Hosey said. "They've been tremendous supporters of my efforts to bring Shakespeare to Walla Walla." This year's production of "Shakespeare Uncorked" is scheduled for the first week in August at the Fort Walla Walla Amphitheater.
Mr. Hosey has become such a fan of Washington's fastest growing wine region that he and his wife recently built a home there, and "we're over there almost every week!"
Northstar Spring Release Party, 2010
Tony Goodspeed's love of Merlot first brought him to Northstar.
"I liked the idea that the winery was focused on making the best Merlot in Washington," said Mr. Goodspeed, who belongs to the Northstar wine club along with his wife, Patty.
But it's a combination of the wine and the inviting tasting room that keeps him coming back.
"The people who work there, everybody from the winemaker to the staff in the tasting room, are just so knowledgeable and friendly," he said.
He and his wife make a point of attending at least a couple of the special events the winery puts on for club members each year. "If we're in the area, we always check to see what they're doing because there's usually something fun going on."
One of the most memorable was a tasting that found Northstar's finest matched with Chateau Petrus, the famed Merlot-based blend from Bordeaux.
"I told Merf that it matched up well," he said.
Don Hart is another Merlot fan who appreciates the perks of club membership that often go above and beyond.
"Three years ago, we went to Northstar for the first time and the folks who served us wine treated us like special guests," he said. "We wound up staying a couple of hours."
Since becoming a club member, Mr. Hart has developed a deep appreciation for Northstar Merlot. "It's smooth with lots and lots of fruit and a lot of body."
When he talked to Jones about putting together a vertical tasting, she came through with flying colors. "We now have a six-year flight," he said.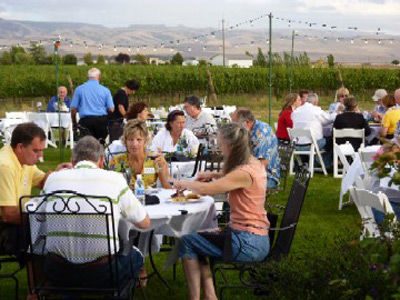 Club members and guests at Northstar's 2009 Harvest Barbecue
Upcoming wine club events at the Northstar winery include a barbecue with Chef John Sarich celebrating the release of his new cookbook and Northstar's 2007 vintages of Syrah and Stella Maris on July 17th and the annual Fall Harvest Party on September 11th, when Northstar will premiere its first ever Malbec, along with the highly anticipated 2007 Cabernet Sauvignon.
"Merf has given us a 'sneak taste' of these wines, and we can hardly wait to get to start pouring them in the Tasting Room for our guests," said Jones. "These limited and very special wines are always available first to our Wine Club and that will be true of the Big Dipper as well."