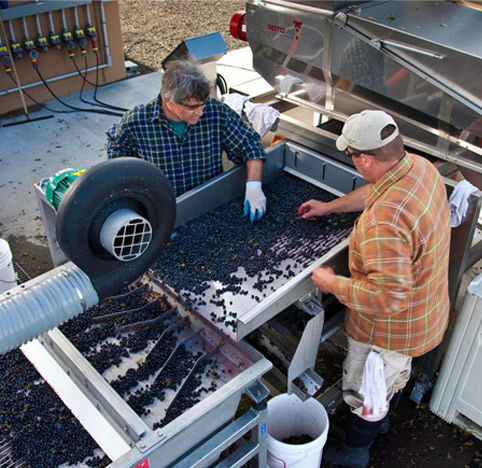 Chapter 7
JUNE 2, 2011
It's often said great wine is made in the vineyard, the culmination of well-tended fruit, a fine growing season and careful clone selection. Not to mention the enigmatic factor known as terroir.
Still, once the fruit has been crushed, fermented and tucked into oak barrels for aging, there's still a crucial step that needs to be taken before a good wine can become a truly great wine.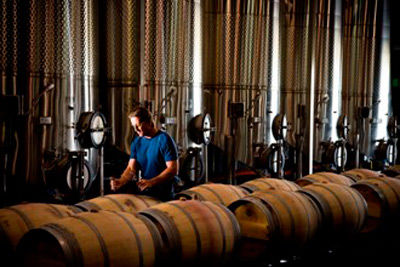 Merf with wines being barrel-aged in Northstar's cellar
Blending is a time-honored tradition that dates back hundreds of years. Its mission is to prove that the sum is greater than the parts.
For Northstar's Big Dipper project, the groundbreaking effort to make the best Merlot from the very best fruit in Washington, winemaker David "Merf" Merfeld began assembling the wine's "base blend" in mid-May, but the roots of the blend go back in time even further.
The Big Dipper blending process began in mid-2009, when Merf and the Ste. Michelle Wine Estates viticulture team began identifying vineyards from which fruit would be selected for the Big Dipper, the working title for this innovative project. The star fruit included Merlot grapes harvested early, on 9/9/09, with higher than usual levels of acid, a quality Merf was looking for to enhance the wine's age-worthiness.
The fermented grapes were kept separately in what ended up being just 10 barrels, so when the time came to blend Big Dipper, components were tasted and evaluated separately before being combined.
"We do a blind tasting and then play with blending different percentages of fruit from each vineyard source," Merf said.
The process is a little like cooking, where you take great ingredients and mix them to create something with layers of flavor and a more complex character.
"Blending is about bringing different components together to complement each other," Merf said. "A wine from one vineyard might have a lot of body, or a fleshy mouth feel, while another adds brightness."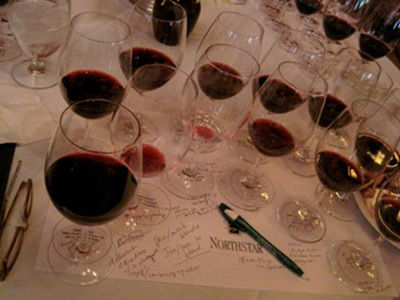 Glasses and notes from a recent component tasting
To illustrate the importance of blending, Merf has been making presentations to media and trade around the country this past year, tasting single vineyard selections and talking about the qualities each brings to the table. Blending offers the opportunity for winemakers to soften sharp edges or showcase varietal characteristics such as black cherry, berries, plum, chocolate and herbs. The "spice cabinet," Merf calls it.
At Northstar, this stage of the winemaking process is hardly like the chef who's handed a box of mystery ingredients and challenged to concoct something special. Merf and his team are well familiar with the various Big Dipper lots after tasting through them on a regular basis the past two years (a common practice with all Northstar wines.)
"It's nice to get the collaboration," said Merf, who also tastes regularly with fellow winemakers to get different points of views on various wines.
His initial inclination in creating Big Dipper was to go for a 100% Merlot blend that would be in slightly higher in acid, with lower alcohol. This blend proved to be his favorite in the end. In other words, his vision bore fruit.
"It's easy to make a plan, especially when you're working with all these great vineyards," Merf said. "There can always be surprises, but we didn't experience anything that was unexpected."
Ask for specifics on those special sites and the seasoned vintner kept his stats close to the vest. "You'll have to wait," he said with a laugh.
That might be the enduring theme for this wine. While fans have been asking for sneak previews since it was first announced, a healthy dose of patience is required before the Big Dipper will shine at its brightest.
Even after the blending is completed, the final tinkering done and the wines put back into barrels for another bit of aging, there's bottling later this summer. Then, there's more waiting until the inaugural release of Big Dipper in the summer of 2012, a date that would coincide with the winery's 10th anniversary. The final part is the hardest: Laying the wine down in the cellar and letting it continue to develop over the next decade, when Merf predicts the Big Dipper will shine at its brightest.