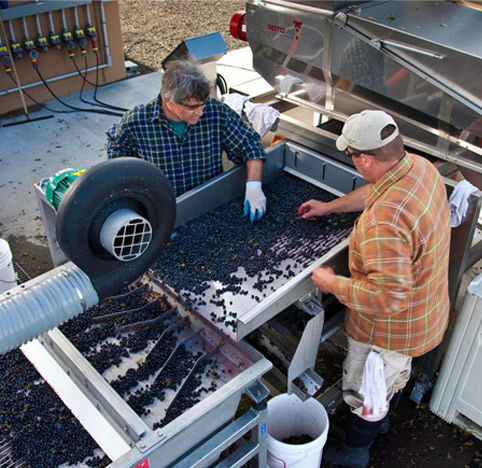 Chapter 3
FEBRUARY 23, 2010
Winter is typically the quiet season for wineries. The adrenalin-pumping rush of harvest fades, the palate-staining pleasure of tasting and blending begins. Visitors find there's plenty of elbow room at the bar in the tasting room.
Yet this year, the downtime at Northstar has been seasoned with the spice of anticipation as the winery's tasting panel sat down in January to do the first formal evaluation of the Big Dipper lots, a collection of Merlot from various vineyards earmarked for this very special, limited release wine. These small lots from various vineyards are candidates for the best Merlot ever produced in Washington State. A bold claim, yes. But that's the goal and, based on the initial evaluations, The Big Dipper is on a nice trajectory.
In January, a group including Northstar winemaker David "Merf" Merfeld and several of his winemaking colleagues tasted through at least 80 wines Merf is looking at for various Northstar blends. The Big Dipper lots were in the mix, tasted in chronological order starting with the first wines harvested. A block from Beverly Vineyards was picked on Sept. 9, 2009, fairly early on the Merlot calendar; Merf wanted to showcase the spunky acids in the grapes. And even at this early stage, the wine "tastes crisp because we picked early so it has the bright full acid we wanted for that age-ability. It's got a lot of body and layers of flavors," Merf said.
The panel diligently noted their impressions during the extensive tasting. There was universal consensus about one thing.
"Everyone at the table thought we were really onto something with the new concrete fermenter," Merf said.
That open-air fermenter – also known as C-4 – is about the size of a retro hot tub. It's a piece of equipment commonly used in Europe, less so in the New World. Merf had C-4 made by a company just over the border in Milton-Freewater, Oregon; an outfit that normally specializes in underground pipe.
Meet C-4, Northstar's new star.

Merlot from Red Mountain was fermented in C-4, giving it a striking minerality. "It really pops," said Merf.
Merf is also pleased with the wines fermented in oak barrels, another new approach undertaken last harvest in the quest for Big Dipper. "We're seeing great color and structure, the wines are really spicy. We're tasting some darker spices, a little cinnamon, some maple picked up from the barrel fermentation."
Beyond the pop on the palate, the numbers run in the lab by enologist Noah Reed support those positive impressions.
"The testing runs on the tannins, where we measure long and short pigments, show high absorption rates, but there wasn't over-extraction," Reed said. "The wines are balanced. They're almost drinking like finished wines."
Oh, if only that were so. Fans eager to taste this rising star will have to wait.
Big Dipper lots are resting now, aging in oak barrels from various coopers, mostly French, but some American oak. "We'll really start to see it develop over the next year," Merf said. Final blending is years away. At this point, though, Merf is still leaning toward a final blend of 100 percent Merlot.
Even when The Big Dipper is released, this wine will require patience. It's meant to be cellared.
In the meantime, Merf's winter calendar is filled with travels to tasting events around the country. He'll be at the South Beach Food and Wine Festival in Miami in late February, and in Seattle at Taste Washington on March 27 and 28. He's also training for another climb on Mount Rainier and was happy to be among fellow outdoor enthusiast winemakers asked to pour at the annual gathering of VIP members of the Washington Trails Association. He has been to events in New York and Minneapolis, pouring Northstar's 2006 Merlots for consumers, media, and members of the wine trade.
Oh, and, as if his plate wasn't already full, Merf is taking online courses on viticulture. "We're breaking down the anatomy of the grapevine, looking at it on a cellular level," he said. Which means writing papers and taking tests.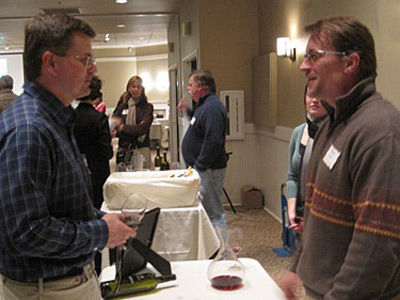 Merf talks Merlot at the Washington Trails Association event
The cold, (not-so) quiet season will soon give way to spring and the cycle will begin again: buds breaking, visitors flocking to the tasting room. Spring Release weekend is April 30-May 2, and Northstar's popular French picnic platters will return on weekends beginning in late May.
And before too long, Merf will be out in the vineyards again, sizing up potential players for the next round of Big Dipper. Will it include grapes harvested on 10.10.10? Probably not, but anything's possible.