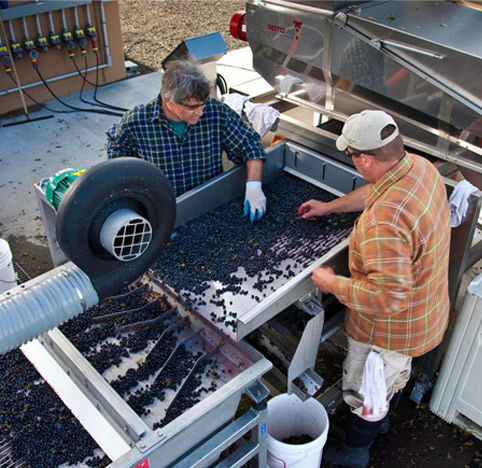 Chapter 2
NOVEMBER 23, 2009
At wineries around the globe, harvest means a dramatic rush of picking, sorting, fermenting, punching down and pressing. The stage is set with shiny tanks and hoses moving grapes from the sorting table to the tank, while forklifts doing a mobile mambo lift bins of fruit.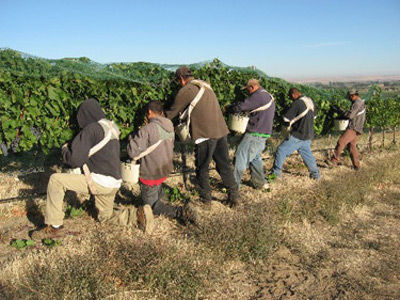 Picking Merlot at Anna Marie Vineyard
This year at Northstar, Merf was especially excited to be grooming a new star: the limited-production Merlot with astronomical aspirations known as The Big Dipper.
Merf spent the summer traveling vineyards, looking for the best of the best fruit. But the seed for this project was planted several years ago when the winemaker uncorked a bottle of the now-legendary 1983 Cold Creek Cabernet Sauvignon from Chateau Ste. Michelle, a wine Robert Parker raved about. It was still drinking beautifully.
"It got me thinking," Merf said. "Most people drink a bottle of wine 45 minutes after buying it. I wanted to show how well Washington wines could age."
This quest led to the acquisition of some new "toys": a small basket press, French oak barrels made especially for fermenting red wine and a concrete fermenter, which Merf had made in Milton-Freewater, Oregon, not far from some of the most famous vineyards in the Walla Walla AVA.
"Everybody's getting a kick out of it," Merf said of the fermenter, which is about the size of a six-person hot tub and goes by the nickname "C-4".
This Old World tool is starting to catch on in California, the thick walls acting as insulation so the fermenting fruit stays at a more constant temperature. "It's definitely experimental, but it should add another layer of flavor to the fruit," he said.
Fermenting a small amount of Merlot in oak barrels is another bold stroke, an effort to extract as much intensity from the grapes as possible.
"It's got a huge amount of body, a real meaty quality," he said of the fruit from Mike Andrews' Coyote Canyon vineyard in the Horse Heaven Hills.
The basket press holds about two tons of fruit, gently extracting juice with intense, concentrated flavors without harsh tannins.
For the inaugural pressing, Merf and Northstar enologist Noah Reed loaded fruit harvested a little early, on September 9, 2009, from Beverly Vineyard near Wahluke Slope.
As the free run juice flowed from the tank, Merf said he was pleased with what he smelled and tasted: "We picked a little early to lock in the acids to make a wine that's a little lower in alcohol, made to be cellared. It's been on the skins for 14 days."
During harvest Merf and the crew multi-task like a chef who has a full dining room.
There were samples from various vineyards that need to be tested, to determine whether the fruit was ready to pick. The winemaker also talked frequently with the viticulture team, who are monitoring ripeness in the vineyards. If all signs pointed toward picking, Merf then made sure trucks and bins were available to haul the grapes to the winery.
The first potential fruit for the Big Dipper was such a small lot, Merf hauled it from Beverly Vineyard in his pick-up truck.
So, now the non-stop action of September and October's harvest season has passed. The last grapes have been fermented and pressed and tucked into barrels for at least 18 months. But Merf will continue to monitor and taste along the way, to keep a diligent watch over the various pieces that will eventually be blended together to shine brightly and cellar long.